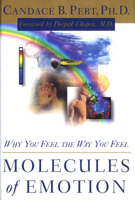 Candace B. Pert, Ph.D (1997). Molecules of Emotion. Why You Feel the Way You Feel. Scribner. New York.

"The first component of the molecules of emotion is a molecule found on the surface of cells in body and brain called the opiate receptor. It was my discovery of the opiate receptor that launched my career as a bench scientist in the early 1970s, when I found a way to measure it and thereby prove its existence." (p.21). "Darwin speculated that the emotions must be key to the survival of the fittest" (p.131). "Neuropetides and their receptors thus join the brain, glands, and immune system in a network of communication between brain and body, probably representing the biochemical substrate of emotion" (p.179).

"For me, science has been a quest to understand nature--both human and Mother. As I have known it in it purest, most exalted form, science is the search for truth. It was this belief that drew me to science, and thorough my naivete and despite all my many false turns, it's what has kept me on the journey.

The heart of science is feminine. In its essence, science has very little to do with competition, control, separation--all qualities that have come to be associated with science in the male-dominated, twentieth-century form. The science I have come to know and love is unifying, spontaneous, intuitive, caring--a process more akin to surrender than to domination".

The rational, masculine, materialistic world we live in places too much value on competition and aggression. Science at its most exalted is a truth-seeking endeavor, which encompasses the values of cooperation and communication, based on trust--trust in ourselves and in one another". (p315).